Skip to Content
Call on Roof-M-All for Metal Roofing
Metal roofing has become much more popular in the past decade thanks largely in part to how the rain sounds when hitting it. They become their own sound machine for the entire home to relax on a rainy day. They provide many other benefits to your house, including durability, affordability, and ease of maintenance. Call on our professionals today to see if a new metal roof is the right choice. We provide our customers with a fast and free estimate on all installations, and they get backed by our 100% Customer Satisfaction Guarantee.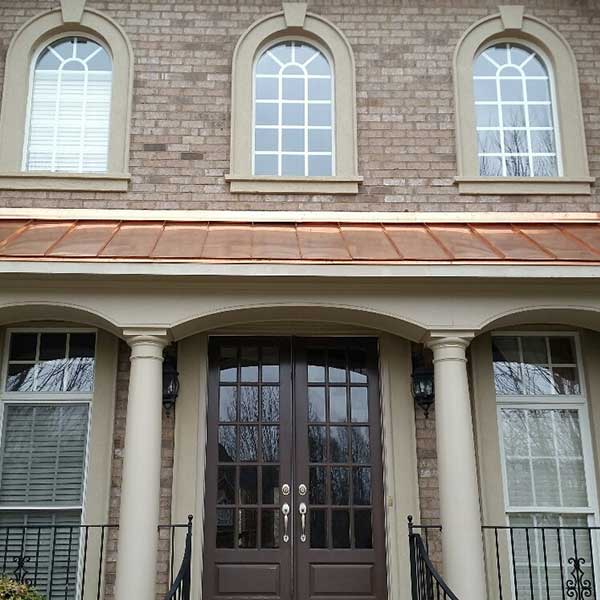 What are the Benefits of Metal Roofing?
Metal roofs bring several advantages to homes in Charlotte, NC. While they come at a higher price, it's for a good reason. The following are some benefits as to why a metal roof should be the replacement chosen for your Charlotte house.
Durable
Most asphalt roofs last about 15-20 years before they need replacing. When you install a metal roof though, expect 40-70 years. We've seen roofs last longer than some of the houses on which they get installed! Heavy rain, snow, hail, and strong winds are no match for the durability of your new roofing material.
Environmentally-Friendly
Metal roofs don't rely on asphalt which diminishes the amount of fossil fuels on the planet. Asphalt roofs also need to be replaced more often than metal roofs, so you will need to use even more materials. Metal roofs can be created with 25% recycled material to help keep down the amount of waste. You can also place metal right over the asphalt to eliminate the need to strip your current setup and trash those volatile supplies.
Aesthetic
You have a wide variety to choose from when choosing metal roofs. We provide our customers with zinc, tin, aluminum, copper, and galvanized options. You can also pick from a wide variety of colors within each metal choice. The steel and aluminum can even hold paint finishes to help you find the perfect color.
Energy-Efficient
When thinking about the initial cost of your metal roof, you should also be thinking about how much you will save monthly once installed. Metal roofs have been proven to save homeowners up to 25% on their energy bills over the year. Thanks to the reflective properties, you also won't need to crank the AC in the summer because it helps keep the heat at bay.
Copper Roofing Is Our Specialty
While we can handle any metal roof you decide for your home, our team specializes in adding copper roofs for our neighbors, friends, and families. It's much lighter than other metal options and puts far less stress on the house but still provides all the benefits. Our team will help you decide which metal is right, but if given the choice, we would select copper more often than not.
Contact Us for a Roofing Estimate Today!